Audible #1 Best-selling narrator | SOVAS Award 2019 | Audie Award Nomination: Nevertheless We Persisted #metoo  Professional home studio in New Jersey
Fiction: historical / contemporary / literary / cozy mystery / fantasy / cozy romance 
Nonfiction: memoir / self-help / academic 
Languages: French and Italian (some conversational ability); Accents: French, Italian, var. British, Irish, Scottish, var. Spanish, Eastern European, German, Russian, etc. 
American dialects: NYC reg.; Philadelphia; Midwestern; Coastal Southern; Alabama; Texas; Boston, etc.
I'm a professional singer with years of experience in live performance, improvisation, and teaching. I love travel, music, art, volunteer work, differentiating instruction, and learning anything.
My clients include Audible, Beacon Press, Bloomsbury Press, Brilliance, Gildan Media, Hachette Audio, HarperAudio, HighBridge, McGraw-Hill, Penguin Random House, Recorded Books, Tantor Media, Vibrance, Workman, and others.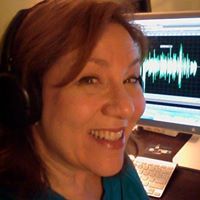 by Susan Fox Rogers | Read by Rosemary Benson | Tantor Media
"Rosemary Benson's melodic and expressive voice is perfect for these introspective essays...Benson seamlessly matches her tone with Rogers's wide-ranging subjects, conveying her self-effacing humor, concern at habitat loss, joy in a beautiful bird, and resigned sadness when her relationship fails." (read more) - Audiofile
LEVON: FROM DOWN IN THE DELTA TO THE BIRTH OF THE BAND AND BEYOND
by Sandra B. Tooze | Read by Rosemary Benson | HighBridge Audio
"Narrator Rosemary Benson creates the voices of the major and minor figures in this biography of Levon Helm, drummer for The Band. She delivers a convincing voicing of Helm's soft Arkansas dialect and even mimics incidental characters such as saxophonist Bobby Keys and folk singer Happy Traum..." (read more) - AudioFile Magazine
A WORLD WITHOUT SOIL: The Past, Present, and Precarious Future of the Earth Beneath Our Feet by Jo Handelsman, Kayla Cohen | Tantor Audio
Expressing clear concern, Benson ticks off soil problems that include deforestation, erosion,and shortsighted farming practices around the world. She makes listeners hear Handelsman's fascination…She also brings a sense of high-stakes drama..."
MOCKINGBIRD SONGS: MY FRIENDSHIP WITH HARPER LEE
By Wayne Flynt | Read by Rosemary Benson, Mike Ortego
Harper Audio
"Harper Lee stands as one of the twentieth century's most beloved authors with her enduring classic, TO KILL A MOCKINGBIRD. Here, her longtime friend Wayne Flint shares his perspective on Lee through their thirty-year correspondence. What makes this listening experience special are the performances of the two narrators... Benson, in particular, seems perfectly chosen to represent Lee; her melodic voice has a hint of Southern charm." (read more)   - AudioFile
AN IMPROBABLE PAIRING
By Gary Dickson | Read by Rosemary Benson
Greenleaf Book Group
"Benson's elegant yet honest narration adds extravagance and realism to this novel's aristocratic setting. She provides a suitable tone for a lavish romance and will easily transport listeners to a period of European refinement." - AudioFile- AudioFile